News
Tonight: 'Hori Smoku Sailor Jerry'
10/13/10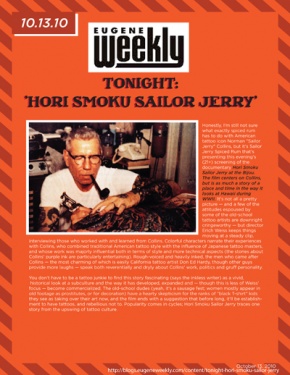 Honestly, I'm still not sure what exactly spiced rum has to do with American tattoo icon Norman "Sailor Jerry" Collins, but it's Sailor Jerry Spiced Rum that's presenting this evening's (21+) screening of the documentary Hori Smoku Sailor Jerry at the Bijou. The film centers on Collins, but is as much a story of a place and time in the way it looks at Hawaii during WWII.
It's not all a pretty picture — and a few of the attitudes espoused by some of the old-school tattoo artists are downright cringeworthy — but director Erich Weiss keeps things moving at a steady clip, interviewing those who worked with and learned from Collins. Colorful characters narrate their experiences with Collins, who combined traditional American tattoo style with the influence of Japanese tattoo masters, and whose work was majorly influential both in terms of style and more technical aspects (the stories about Collins' purple ink are particularly entertaining). Rough-voiced and heavily inked, the men who came after Collins — the most charming of which is easily California tattoo artist Don Ed Hardy, though other guys provide more laughs — speak both reverentially and dryly about Collins' work, politics and gruff personality.
You don't have to be a tattoo junkie to find this story fascinating (says the inkless writer) as a vivid, historical look at a subculture and the way it has developed, expanded and — though this is less of Weiss' focus — become commercialized. The old-school dudes (yeah, it's a sausage fest; women mostly appear in old footage as prostitutes, or for decoration) have a hearty skepticism for the ranks of "black T-shirt" kids they see as taking over their art now, and the film ends with a suggestion that before long, it'll be establishment to have tattoos, and rebellious not to. Popularity comes in cycles; Hori Smoku Sailor Jerry traces one story from the upswing of tattoo culture.
Hori Smoku Sailor Jerry screens at 7 pm tonight, Wednesday, Oct. 13, at the Bijou. See here for more details.