News
The Spearhead.com Hypes Hori Smoku
01/01/10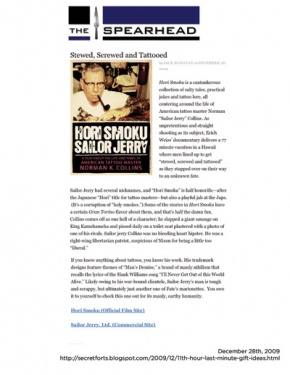 Stewed, Screwed and Tattooed
Hori Smoku - The Life and Times of Sailor Jerry Collins
by Jack Donovan on December 28, 2009
Hori Smoku is a cantankerous collection of salty tales, practical jokes and tattoo lore, all centering around the life of American tattoo master Norman "Sailor Jerry" Collins. As unpretentious and straight shooting as its subject, Erich Weiss' documentary delivers a 77 minute vacation in a Hawaii where men lined up to get "stewed, screwed and tattooed" as they stopped over on their way to an unknown fate.
Sailor Jerry had several nicknames, and "Hori Smoku" is half honorific—after the Japanese "Hori" title for tattoo masters—but also a playful jab at the Japs. (It's a corruption of "holy smokes.") Some of the stories in Hori Smoku have a certain Gran Torino flavor about them, and that's half the damn fun. Collins comes off as one hell of a character; he slapped a giant sausage on King Kamehameha and pissed daily on a toilet seat plastered with a photo of one of his rivals. Sailor jerry Collins was no bleeding heart hipster. He was a right-wing libertarian patriot, suspicious of Nixon for being a little too "liberal."
If you know anything about tattoos, you know his work. His trademark designs feature themes of "Man's Demise," a brand of manly nihilism that recalls the lyrics of the Hank Williams song "I'll Never Get Out of this World Alive." Likely owing to his war-bound clientele, Sailor Jerry's man is tough and scrappy, but ultimately just another one of Fate's marionettes. You owe it to yourself to check this one out for its manly, earthy humanity.
Hori Smoku (Official Film Site)
Sailor Jerry, Ltd. (Commercial Site)