News
The Gray Market Report Hypes San Francisco Screening
06/05/10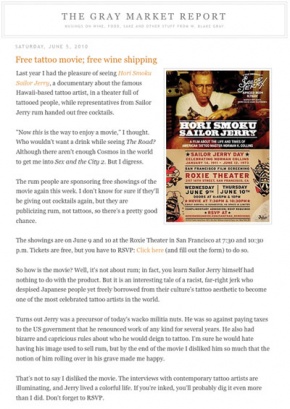 Free Tattoo Movie, Free Wine Shipping
Last year I had the pleasure of seeing Hori Smoku Sailor Jerry, a documentary about the famous Hawaii-based tattoo artist, in a theater full of tattooed people, while representatives from Sailor Jerry rum handed out free cocktails.
"Now this is the way to enjoy a movie," I thought. Who wouldn't want a drink while seeing The Road? Although there aren't enough Cosmos in the world to get me into Sex and the City 2. But I digress.
The rum people are sponsoring free showings of the movie again this week. I don't know for sure if they'll be giving out cocktails again, but they are publicizing rum, not tattoos, so there's a pretty good chance.
The showings are on June 9 and 10 at the Roxie Theater in San Francisco at 7:30 and 10:30 p.m. Tickets are free, but you have to RSVP: Click here (and fill out the form) to do so.
So how is the movie? Well, it's not about rum; in fact, you learn Sailor Jerry himself had nothing to do with the product. But it is an interesting tale of a racist, far-right jerk who despised Japanese people yet freely borrowed from their culture's tattoo aesthetic to become one of the most celebrated tattoo artists in the world.
Turns out Jerry was a precursor of today's wacko militia nuts. He was so against paying taxes to the US government that he renounced work of any kind for several years. He also had bizarre and capricious rules about who he would deign to tattoo. I'm sure he would hate having his image used to sell rum, but by the end of the movie I disliked him so much that the notion of him rolling over in his grave made me happy.
That's not to say I disliked the movie. The interviews with contemporary tattoo artists are illuminating, and Jerry lived a colorful life. If you're inked, you'll probably dig it even more than I did. Don't forget to RSVP.
******
With another new month comes another free shipping offer from my advertiser, Wine Chateau. Once again I've gone through my recent tasting notes and their selection to recommend a few wines.
While Wine Chateau pays me to run that ad you see in the upper right corner, and mentioning them once a month in a blog post is part of our agreement, they do not pay me to recommend wines, nor have the wineries.
Potel Aviron Fleurie Vieilles Vignes 2007 ($17.99): The first thing I searched for because I had it last night. This well-made Beaujolais has flavors of cherry and hibiscus tea and is somewhat tangy on the finish, which is surprisingly long and in a downward chord like a fading guitar note. Very food-friendly. 91 points.
Scharffenberger Mendocino County Brut NV ($17.59): I just shipped out an article on California sparkling wine for a European wine magazine, and unfortunately I couldn't include this wine because they don't export it. Pity; this is one of California's best bubbly values. The wine had been called Pacific Echo for a number of years, but it has its original name back and is just delicious: fruit-forward, with plenty of apple fruit, it's an appealing bubbly at an unbeatable price. 90 points