News
Super Fun Times Posts the Hori Smoku Screening at the Seaport
05/10/09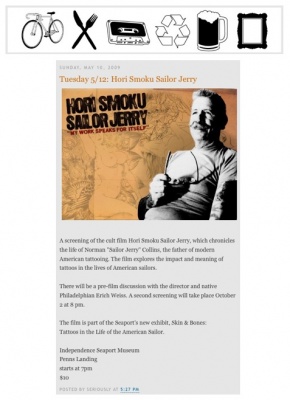 "A screening of the cult film Hori Smoku Sailor Jerry, which chronicles the life of Norman "Sailor Jerry" Collins, the father of modern American tattooing. The film explores the impact and meaning of tattoos in the lives of American sailors.
There will be a pre-film discussion with the director and native Philadelphian Erich Weiss. A second screening will take place October 2 at 8 pm.
The film is part of the Seaport's new exhibit, Skin & Bones:
Tattoos in the Life of the American Sailor.
Independence Seaport Museum
Penns Landing
starts at 7pm
$10"