News
She Does The City.com posts about Hori Smoku NXNE Screening
06/17/09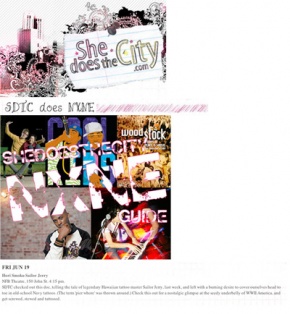 SDTC does NXNE
Summer is supposed to be a relaxing time. The only decisions I want to make are whether to order an ice-cold PBR tall can or mix up a pitcher of Sangria. As soon as your feet hit your flip-flops, summer is stress-free. Except for five fateful days. Yes, friends, North By Northeast is at once the best and most angst-ridden weekend of the season (thankfully, 4 am last call makes the overscheduled sword a little less sharp.) Will you reminisce about Woodstock or Sailor Jerry? Hear the wise words of GZA or catch a glimpse of Dakar's underground hip hop scene? Most importantly, how many amazing independent bands is it truly possible to see in one long, hot, sweaty night? With hundreds of acts playing well into the small hours of the morning, how's a girl ever to decide what she should check out? Never fear! Team SDTC loves you-and we've comprised a list of NXNE's best bets for each day (and night) of the fest; from films to shows to celebrity interviews. So save your hair-pulling for more pressing matters and your energy for the really important stuff-making sure that, whether you're dancing to Matt and Kim or The Cool Kids, your head doesn't hit the pillow until sometime around dawn.
Hori Smoku Sailor Jerry
NFB Theatre, 150 John St. 4:15 pm.
SDTC checked out this doc, telling the tale of legendary Hawaiian tattoo master Sailor Jerry, last week, and left with a burning desire to cover ourselves head to toe in old-school Navy tattoos. (The term 'pier whore' was thrown around.) Check this out for a nostalgic glimpse at the seedy underbelly of WWII America, and get screwed, stewed and tattooed.