News
Screening on Jamesthen.com
06/26/09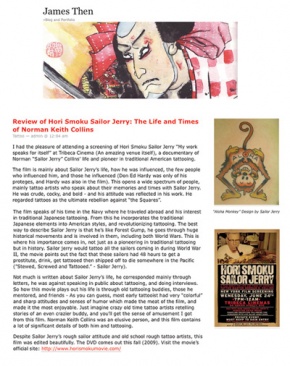 Review of Hori Smoku Sailor Jerry: The Life and Times of Norman Keith Collins

I had the pleasure of attending a screening of Hori Smoku Sailor Jerry "My work speaks for itself" at Tribeca Cinema (An amazing venue itself), a documentary of Norman "Sailor Jerry" Collins' life and pioneer in traditional American tattooing.
The film is mainly about Sailor Jerry's life, how he was influenced, the few people who influenced him, and those he influenced (Don Ed Hardy was only of his proteges, and Hardy was also in the film). This opens a wide spectrum of people, mainly tattoo artists who speak about their memories and times with Sailor Jerry. He was crude, cocky, and bold - and his attitude was reflected in his work. He regarded tattoos as the ultimate rebellion against "the Squares".
"Aloha Monkey" Design by Sailor Jerry
The film speaks of his time in the Navy where he traveled abroad and his interest in traditional Japanese tattooing. From this he incorporates the traditional Japanese elements into American styles, and revolutionizing tattooing. The best way to describe Sailor Jerry is that he's like Forest Gump, he goes through huge historical movements and is involved in them, including both World Wars. This is where his importance comes in, not just as a pioneering in traditional tattooing but in history. Sailor jerry would tattoo all the sailors coming in during World War II, the movie points out the fact that these sailors had 48 hours to get a prostitute, drink, get tattooed then shipped off to die somewhere in the Pacific ("Stewed, Screwed and Tattooed." - Sailor Jerry).
Not much is written about Sailor Jerry's life, he corresponded mainly through letters, he was against speaking in public about tattooing, and doing interviews. So how this movie plays out his life is through old tattooing buddies, those he mentored, and friends - As you can guess, most early tattooist had very "colorful" and sharp attitudes and senses of humor which made the meat of the film, and made it the most enjoyable. Just imagine crazy old time tattoo artists retelling stories of an even crazier buddy, and you'll get the sense of amusement I got from this film. Norman Keith Collins was an elusive person, and this film contains a lot of significant details of both him and tattooing.
Despite Sailor Jerry's rough sailor attitude and old school rough tattoo artists, this film was edited beautifully. The DVD comes out this fall (2009). Visit the movie's official site: http://www.horismokumovie.com/
Trailer: http://www.youtube.com/watch?v=OHjebTottiw