News
Sanctified Folk posts about Hori Smoku and the Film's NOLA Debut
10/03/08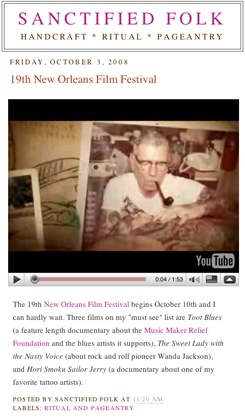 Hori Smoku is in yet another film festival. This time, The New Orleans Film festival and once again it has been marked as a "must see". Take a look at the trailer and post on Sanctified Folk.
---
"The 19th New Orleans Film Festival begins October 10th and I can hardly wait. Three films on my "must see" list are: ...
... and Hori Smoku Sailor Jerry (a documentary about one of my favorite tattoo artists)."