News
Review on The Examiner.com Philadelphia
11/18/09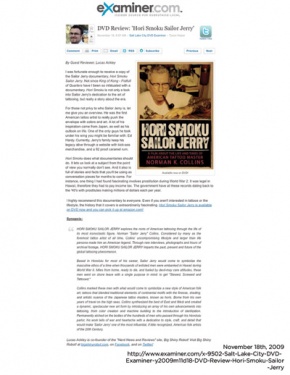 DVD Review: 'Hori Smoku Sailor Jerry'
By Guest Reviewer, Lucas Ackley
I was fortunate enough to receive a copy of the Sailor Jerry documentary, Hori Smoku Sailor Jerry. Not since King of Kong - Fistfull of Quarters have I been so infatuated with a documentary. Hori Smoku is not only a look into Sailor Jerry's dedication to the art of tattooing, but really a story about the era.
For those not privy to who Sailor Jerry is, let me give you an overview. He was the first American tattoo artist to really push the envelope with colors and art. A lot of his inspiration came from Japan, as well as his outlook on life. One of the only guys he took under his wing you might be familiar with: Ed Hardy. Currently, Jerry's family keep his legacy alive through a website with kick-ass merchandise, and a 92 proof caramel rum.
Hori Smoku does what documentaries should do. It lets us look at a subject from the point of view you normally don't see. And it also is full of stories and facts that you'll be using as conversation pieces for months to come. For instance, one thing I had found fascinating involves prostitution during World War 2. It was legal in Hawaii, therefore they had to pay income tax. The government have all these records dating back to the '40's with prostitutes making millions of dollars each per year.
I highly recommend this documentary to everyone. Even if you aren't interested in tattoos or the lifestyle, the history that it covers is extraordinarily fascinating. Hori Smoku Sailor Jerry is available on DVD now and you can pick it up at amazon.com!
Synopsis:
HORI SMOKU SAILOR JERRY explores the roots of American tattooing through the life of its most iconoclastic figure, Norman "Sailor Jerry" Collins. Considered by many as the foremost tattoo artist of all time, Collins' uncompromising lifestyle and larger than life persona made him an American legend. Through rare interviews, photographs and hours of archival footage, HORI SMOKU SAILOR JERRY imparts the past, present and future of the global tattooing phenomenon.
Based in Honolulu for most of his career, Sailor Jerry would come to symbolize the masculine ethos of a time when thousands of enlisted men were embanked in Hawaii during World War II. Miles from home, ready to die, and fueled by devil-may care attitudes, these men went on shore leave with a single purpose in mind: to get "Stewed, Screwed and Tattooed."
Collins marked these men with what would come to symbolize a new style of American folk art; tattoos that blended traditional elements of continental motifs with the finesse, shading, and artistic nuance of the Japanese tattoo masters, known as horis. Borne from his own years of travel on the high seas, Collins synthesized the best of East and West and created a dynamic, spectacular new art form by introducing an array of his own advancements into tattooing, from color creation and machine building to the introduction of sterilization. Permanently etched on the bodies of the hundreds of men who passed through his Honolulu parlor, his work tells of war and heartache with a dedication to style, craft, and detail that would make 'Sailor Jerry' one of the most influential, if little recognized, American folk artists of the 20th Century.
Lucas Ackley is co-founder of the "Nerd News and Reviews" site, Big Shiny Robot! Visit Big Shiny Robot! at bigshinyrobot.com, on Facebook, and on Twitter!