News
Q and A with Sailor Jerry Doc Director Erich Weiss
04/08/08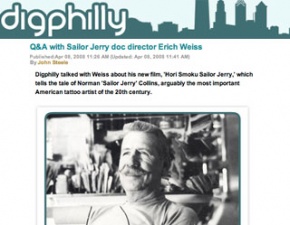 Q&A with Sailor Jerry doc director Erich Weiss
By John Steele
Digphilly talked with Weiss about his new film, 'Hori Smoku Sailor Jerry,' which tells the tale of Norman 'Sailor Jerry' Collins, arguably the most important American tattoo artist of the 20th century.
Hori Smoku Sailor Jerry, a documentary airing Thursday, April 10, at the Philadelphia Film Festival, tells the tale of legendary tattoo artist Norman "Sailor Jerry" Collins and the culture surrounding the modern American Tattoo. Digphilly recently talked with the director of the film, Erich Weiss.
Digphilly: Your film recently premiered at SXSW, what was that experience like?
Erich Weiss: It was crazy because it ran as a crossover with the musical performances so it actually showed to full-size crowds three times. We even got to do a Q&A. It was only supposed to be a short thing but it lasted 45 minutes. People really went crazy for it.
What is the purpose of this film?
The purpose was to entertain, first and foremost. But also, I wanted people to learn about tattooing beyond the soap opera you see on TV. Tattooing is a great American folk art form with a rich history. And once I started interviewing all these legends of the tattooing world, I realized they had some great stories. These were guys who never considered themselves as stereotypical artists. These were artists that could punch your teeth out.
Who is Sailor Jerry?
Sailor Jerry [Norman Collins] is the most iconic American tattoo artist of the 20th century. He took the bold line style of tattooing and incorporated what he learned from his correspondences with the Japanese masters, known as Horis. He brought this style to the Sailor Jerry Tattoo parlor he opened on Hotel Street in Honolulu.
What does this man and his legacy represent to the tattoo community?
He influenced an entire generation of tattoo artists; developing an entirely different style of tattooing--an East meets West approach. He was a mentor to artists like Don Ed Hardy, Michael Malone, and Zeke Owen, to name a few.
What does the title of the film Hori Smoku mean?
As I mentioned, all the Japanese masters were known as Horis, from the Japanese "to carve." Jerry chose the name Hori Smoku because he liked the name Holy Smoke and wanted to dig at the Japanese. He was an amazing shit-stirrer.
What is your goal with this documentary?
I want to tell the stories of some people in the tattoo community who don't get heard too often. There are legends in the tattoo community who never seem to get their due. I also want to counter what is going on with tattooing right now. The way it is in pop culture is not the way it began. And I want people to know that this art form has a serious history. It started out being about artistic trade and apprenticeship and learning. Not about a cute little star you got on your ankle or remembering your dead cat.
Where did you find the interviews?
The guys at Sailor Jerry sent me out to L.A. to do a video with Don Ed Hardy and we really hit it off. He introduced me to a lot of these guys so I called back east and said "I think I have more than just a little video here." Eventually, we were doing a movie.
In your opinion, what led Americans to embrace the tattoo as a culture, so they're not only accepted, but also common and almost mundane?
Anything rebellious eventually becomes homogenized. I mean look at rock n' roll. It all gets stale after a while and loses that danger. But the cool thing about tattoos is no matter how safe they seem they are still permanent. And I like that. I like hearing the joy and the regret of people who have them years later. Because that is what a tattoo is. For better or worse, it is a reminder of where you have been.