News
Needles and Sins Tattoo Blog Features Sailor Jerry
03/31/10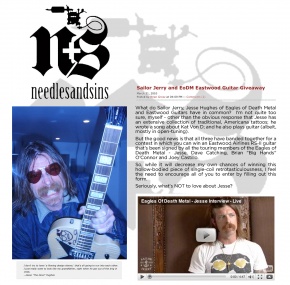 Sailor Jerry and EoDM Eastwood Guitar Giveaway
March 31, 2010
What do Sailor Jerry, Jesse Hughes of Eagles of Death Metal and Eastwood Guitars have in common? I'm not quite too sure, myself - other than the obvious response that Jesse has an extensive collection of traditional, Americana tattoos; he wrote a song about Kat Von D; and he also plays guitar (albeit, mostly in open-tuning).
But the good news is that all three have banded together for a contest in which you can win an Eastwood Airlines RS-II guitar that's been signed by all the touring members of the Eagles of Death Metal - Jesse, Dave Catching, Brian "Big Hands" O'Connor and Joey Castillo.
So, while it will decrease my own chances of winning this hollow-bodied piece of single-coil retrotasticulousness, I feel the need to encourage all of you to enter by filling out this form.
Seriously, what's NOT to love about Jesse?