News
Movies At Night Sailors Delight
08/06/10
New York Post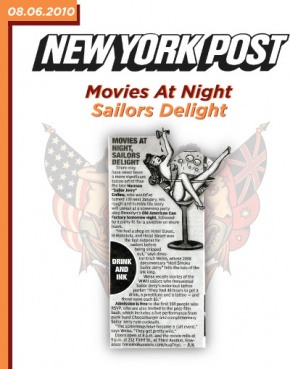 There may have never been a more significant tattoo artist than the late Norman "Sailor Jerry" Collins, who would've turned 100 next January.  His rough-and-tumble life story will unreel at a screening party atop Brooklyn's Old American Can Factory tomorrow night, followed by a party fit for a swabbie on shore leave. 
"He had a shop on Hotel Street, in Honolulu, and Hotel Street was the last outpost for sailors before being shipped out," says director Erich Weiss, whose 2008 documentary "Hori Smoku Sailor Jerry" tells the tale of the ink king.
Weiss recalls stories of the WWII sailors who frequented Sailor Jerry's notorious tattoo parlor: "They had 48 hours to get a drink, a prostitute, and a tattoo - and those were each $3"
Admission is free to the first 350 people who RSVP, who are also invited to the post-film bash, which includes a live performance from punk band Cheeseburger and complimentary Sailor Jerry rum cocktails.
"The screenings have become a cult event," says Weiss.  "They get pretty wild."
Doors open at 8 p.m. and the movie rolls at 9 p.m. at 232 Third St., at Third Avenue, Gowanus: horismokumovie.com/aug7nyc. - B.N.