News
Love and Creation, An Approach to the SXSW Film Festival
03/07/08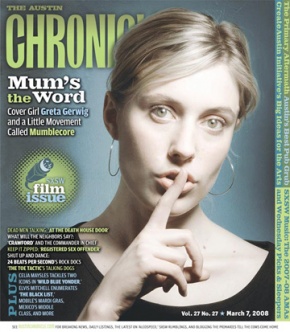 Louis Black names Hori Smoku Sailor Jerry in his picks for films not to be missed at SXSW!
Following are some outstanding films playing the SXSW Film Festival that might not be as immediately prominent as others. This list is a celebration of conflict of interest: Prior to the Festival, I don't watch that many films; most of these were made by friends, are on topics I'm interested in, or were actually made with my involvement. If you want to rant, why bother reading any more? But I promise you, as much as anything can be promised when dealing with an area so completely defined by personal taste, that not one of these films will be any less than fascinating.
Hori Smoku Sailor Jerry: Legendary tattoo artist Sailor Jerry is widely regarded as one of the first to introduce Asian and Eastern influences into American tattooing. Here at the Chronicle, there is a special and deep affection for Sailor Jerry, because one of the people he taught to tattoo, nurtured, and mentored was Michael Malone (aka Rollo Banks). Banks took over the legendary China Sea Tattoo shop in Honolulu after Jerry's death. Sailor Jerry was a fascinating character, and in this documentary, his life and adventures are related by many of the best tattoo artists. A true pirate adventurer, he lived by his own rules, talent, and outrage, running with an equally crazed crew. It wasn't until seeing this film that I realized he had been a character in a Dennis the Menace comic strip. The film is loaded with stories, tattoo lore, and a lot of great body art.