News
Icon Vs. Icon.com hypes the Hori Smoku DVD Release
10/09/09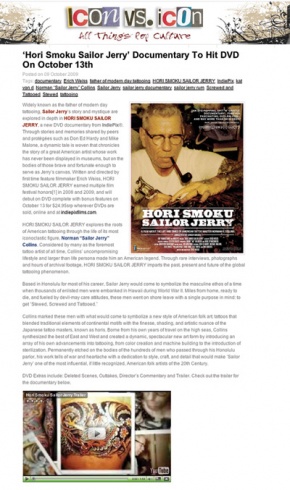 'Hori Smoku Sailor Jerry' Documentary To Hit DVD On October 13th
Widely known as the father of modern day tattooing, Sailor Jerry's story and mystique are explored in depth in HORI SMOKU SAILOR JERRY, a new DVD documentary from IndiePix®. Through stories and memories shared by peers and protégées such as Don Ed Hardy and Mike Malone, a dynamic tale is woven that chronicles the story of a great American artist whose work has never been displayed in museums, but on the bodies of those brave and fortunate enough to serve as Jerry's canvas. Written and directed by first time feature filmmaker Erich Weiss, HORI SMOKU SAILOR JERRY earned multiple film festival honors[1] in 2008 and 2009, and will debut on DVD complete with bonus features on October 13 for $24.95srp wherever DVDs are sold, online and at indiepixfilms.com.
HORI SMOKU SAILOR JERRY explores the roots of American tattooing through the life of its most iconoclastic figure, Norman "Sailor Jerry" Collins. Considered by many as the foremost tattoo artist of all time, Collins' uncompromising lifestyle and larger than life persona made him an American legend. Through rare interviews, photographs and hours of archival footage, HORI SMOKU SAILOR JERRY imparts the past, present and future of the global tattooing phenomenon.
Based in Honolulu for most of his career, Sailor Jerry would come to symbolize the masculine ethos of a time when thousands of enlisted men were embanked in Hawaii during World War II. Miles from home, ready to die, and fueled by devil-may care attitudes, these men went on shore leave with a single purpose in mind: to get "Stewed, Screwed and Tattooed."
Collins marked these men with what would come to symbolize a new style of American folk art; tattoos that blended traditional elements of continental motifs with the finesse, shading, and artistic nuance of the Japanese tattoo masters, known as horis. Borne from his own years of travel on the high seas, Collins synthesized the best of East and West and created a dynamic, spectacular new art form by introducing an array of his own advancements into tattooing, from color creation and machine building to the introduction of sterilization. Permanently etched on the bodies of the hundreds of men who passed through his Honolulu parlor, his work tells of war and heartache with a dedication to style, craft, and detail that would make 'Sailor Jerry' one of the most influential, if little recognized, American folk artists of the 20th Century.
DVD Extras include: Deleted Scenes, Outtakes, Director's Commentary and Trailer. Check out the trailer for the documentary below.