News
Houston Press Posts about Hori Smoku
11/05/09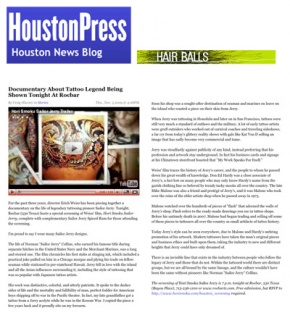 Documentary About Tattoo Legend Being Shown Tonight At Rocbar
By Craig Hlavaty in Movies
Thu., Nov. 5 2009 @ 4:08PM

For the past three years, director Erich Weiss has been piecing together a documentary on the life of legendary tattooing pioneer Sailor Jerry. Tonight, Rocbar (530 Texas) hosts a special screening of Weiss' film, Hori Smoku Sailor Jerry, complete with complementary Sailor Jerry Spiced Rum for those attending the screening.
I'm proud to say I wear many Sailor Jerry designs.
The life of Norman "Sailor Jerry" Collins, who earned his famous title during separate hitches in the United States Navy and the Merchant Marines, was a long and storied one. The film chronicles his first stabs at slinging ink, which included a practical joke pulled on him in a Chicago morgue and plying his trade on fellow seaman while stationed in pre-statehood Hawaii. Jerry fell in love with the island and all the Asian influences surrounding it, including the style of tattooing that was so popular with Japanese tattoo artists.
His work was distinctive, colorful, and utterly patriotic. It spoke to the darker sides of life and the mortality and fallibility of man, perfect fodder for American boys shipping off to war in the Pacific theater. In fact, my late grandfather got a tattoo from a Jerry acolyte while he was in the Korean War. I copied the piece a few years back and it proudly sits on my forearm.
Soon his shop was a sought-after destination of seaman and marines on leave on the island who wanted a piece on their skin from Jerry.
When Jerry was tattooing in Honolulu and later on in San Francisco, tattoos were still very much a standard of outlaws and the military. A lot of early tattoo artists were gruff outsiders who worked out of carnival coaches and traveling sideshows, a far cry from today's glittery reality shows with gals like Kat Von D selling an image that has sadly become very commercial and tame.
Jerry was steadfastly against publicity of any kind, instead preferring that his profession and artwork stay underground. In fact his business cards and signage at his Chinatown storefront boasted that "My Work Speaks For Itself."
Weiss' film traces the history of Jerry's career, and the people to whom he passed down his great wealth of knowledge. Don Ed Hardy was a close associate of Jerry's, a fact lost on many people who may only know Hardy's name from the garish clothing line so beloved by trendy tacky mooks all over the country. The late Mike Malone was also a friend and protégé of Jerry's, and it was Malone who took over the reins of the elder artists shop when he passed away in 1973.
Malone watched over the hundreds of pieces of "flash" that adorned the walls of Jerry's shop. Flash refers to the ready-made drawings you see in tattoo shops. Before his untimely death in 2007, Malone had begun trading and selling off some of these pieces to tattooers all over the country as small artifacts of tattoo history.
Today Jerry's style can be seen everywhere, due to Malone and Hardy's untiring promotion of his artwork. Modern tattooers have taken the man's original pieces and business ethics and built upon them, taking the industry to new and different heights that Jerry could have only dreamed of.
There is an invisible line that exists in the industry between people who follow the legacy of Jerry and those that do not. Within the tattooed world there are distinct groups, but we are all bound by the same lineage, and the culture wouldn't have been the same without pioneers like Norman "Sailor Jerry" Collins.
The screening of Hori Smoku Sailor Jerry is 7 p.m. tonight at Rocbar, 530 Texas (Bayou Place), 713-236-1100 or www.rocbartx.com. Free admission, but RSVP to http://www.horismoku.com/houston_screening required.