News
Hori Smoku Review and Interview with Director Erich Weiss in Tattoo Artist Magazine
06/16/08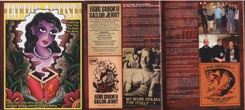 Tattoo Artist Magazine wrote a great review and interview piece on director Erich Weiss and Hori-Smoku! Check out the whole article below!
---

Sailor Jerry Movie Premier:
6pm Wed., March 12th @ SXSW festival
The SXSW week offers two thousands bands in a week in a city that can handle the kind of crowds two thousand bands bring in. It's madness. It's a party! But for 40 or so tattooers present, the premier of "Hori Smoku", the Sailor Jerry Documentary film, was the highlight of the week.
This is Erich Weiss' freshman film and it exceeded all expectations as he attempted to tell the tale of one of our greatest heroes- The life and legend of Sailor Jerry Collins! the opening credit scene alone and use of S.J. art throughout was spectacularly executed.
The film consists of roughly 80 minutes of flash, photos, history and stories of "Old Ironsides", told by Philadelphia Eddy, Bob Roberts, Don Ed Hardy, Zeke Owens, Lyle Tuttle, and the master storyteller, Rollo. Erich had collected over 50 hours of video interviews with these legends over the last 18 months and we were finally allowed to see the final product of all that labor.
It was an incredible film and I can't wait until it's available for all of you to see. It'll make you proud!
In attendance for the premier were Ed Hardy, Kandi Everette, Keith Underwood, Tony Hundahl, Aaron Bloomquist, jason Brooks, Steve Bryne, Oliver Peck and another 30 or so tattooers, along with about 150 civilians who waited in line to catch the premier.
After the showing, we had a brief period of Q&A with Erich and headed off to the Jackalope bar for the after-party where Keith and Jason had graciously hung around 40- framed pieces of original S.J. art, flash and photos for the crowds to admire and Tumbledown performed again.
As for the future of "Hori-Smoku", Erich is taking the film on the festival circuit to shop it around for theatrical release and eventual DVD release as well. Stay tuned here for more info; we'll keep you up to date how that all goes for Erich.
There are some selected video clips, news, reviews, images, etc available online:
http://horismokumovie.com/
Check 'em out!
We also asked director Erich Weisse a few questions over email. Here's what we got on the status.
CRASH: First, any new developments since SXSW or anywhere it's been shown?
ERICH: Well right now we are only doing festival showings; we are showing at the Philadelphia Film festival next week. It sold out (450 seats) in like 3 days... very exciting.
Where else will it be shown this year on the independent film circuit?
We just started entering the festival circuit so we'll see! Check the website often for updates!
What are the current plans for the movie now?
We are looking into theatrical distribution as well as retail (dvd).
How have the reactions been to the movie so far, from tattoo pros and from the general public?
The reactions have been amazing... both in the tattoo world as well as the general public. Whats most rewarding is the praise the film is getting in that it realistically portrays the great history if American tattooing - and shows that there was a whole lot going on before the big Tv channels took over and made it into a soap opera!
When could we expect it to be available on DVD if it finds theatrical release VS if not?
It will definitely be released to the public, but right now we are in the initial stages of distro talks! Check back soon.
Thanks, Erich!