News
Hori Smoku on NOW Toronto.com
06/23/09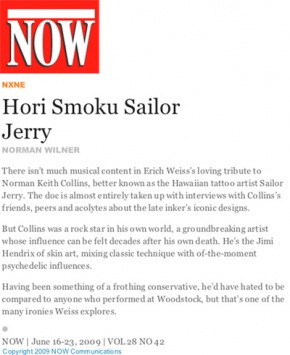 Hori Smoku Sailor Jerry
Norman Wilner
There isn't much musical content in Erich Weiss's loving tribute to Norman Keith Collins, better known as the Hawaiian tattoo artist Sailor Jerry. The doc is almost entirely taken up with interviews with Collins's friends, peers and acolytes about the late inker's iconic designs.
But Collins was a rock star in his own world, a groundbreaking artist whose influence can be felt decades after his own death. He's the Jimi Hendrix of skin art, mixing classic technique with of-the-moment psychedelic influences.
Having been something of a frothing conservative, he'd have hated to be compared to anyone who performed at Woodstock, but that's one of the many ironies Weiss explores.