News
Hori Smoku on Needles and Sins.com
11/24/09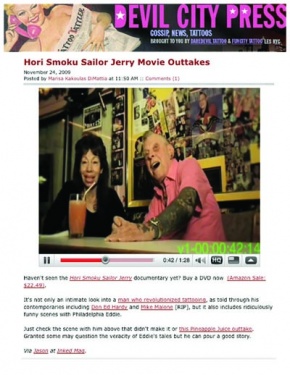 Hori Smoku Sailor Jerry Movie Outtakes
Haven't seen the Hori Smoku Sailor Jerry documentary yet? Buy a DVD now (Amazon Sale: $22.49).
It's not only an intimate look into a man who revolutionized tattooing, as told through his contemporaries including Don Ed Hardy and Mike Malone [RIP], but it also includes ridiculously funny scenes with Philadelphia Eddie.
Just check the scene with him above that didn't make it or this Pineapple Juice outtake. Granted some may question the veracity of Eddie's tales but he can pour a good story.