News
Hori Smoku in The New York Times
05/22/09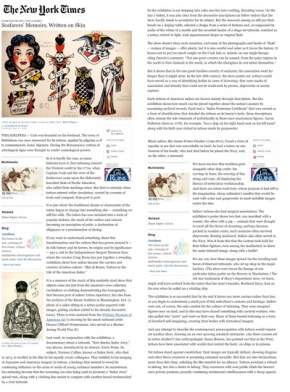 Check out the Cover of the Art and Design section of The New York Times for some Sailor Jerry, flash, facts, and Seaport Museum Exhibition review.
---
Seafarers' Memoirs, Written on Skin
PHILADELPHIA — Cain was branded on his forehead. The town of Bethlehem was once renowned for its tattoos, applied by pilgrims as if to commemorate Jesus' stigmata. During the Renaissance, tattoos of astrological signs were thought to confer cosmological powers.
So it is hardly the case, as many histories have it, that tattooing entered the Western world in the 1770s, when Captain Cook and the crew of the Endeavour came upon the elaborately inscribed flesh of Pacific Islanders, who called their markings tatau. But that is certainly when tattoos entered wider circulation, carried by currents of trade and conquest, from port to port.
It is also where the traditional shame or shamanism of the tattoo began to change into something else — something we still live with. The tattoo has now mutated into a form of popular fashion, the mark of the outlaw and outcast becoming an inscription of pride, a declaration of allegiance or a proclamation of daring.
If you want to understand something about this transformation and the culture that has grown around it — its folk history and its heroes, its origins and its significance — pay a visit to the Independence Seaport Museum here, where the curator Craig Bruns has put together a revealing exhibition about how sailors became the carriers and creators of tattoo culture: "Skin & Bones: Tattoos in the Life of the American Sailor."
It is a measure of the reach of this modestly sized show that objects come not just from the museum's own collection (scrimshaw or clothing demonstrating the iconography that became part of sailors' tattoo repertory), but also from the archives of the Kinsey Institute in Bloomington, Ind. (a photo of a sailor sitting in a tattoo parlor papered with images, getting another added to his densely decorated torso). There is even material from the Whitney Museum of American Art (a drawing by the much-tattooed artist Horace Clifford Westermann, who served as a Marine during World War II).
Last week, in conjunction with the exhibition, a documentary about a tattooist, "Hori Smoku Sailor Jerry," was shown, introduced by its director, Erich Weiss. Its subject, Norman Collins, known as Sailor Jerry, who died in 1973, is recalled in the film by his equally crusty colleagues. They testified to his merging of Japanese and American imagery in tattoos, a heritage that seemed to reveal its continuing influence on the arms or necks of young audience members. So mainstream has tattooing become that the screening was also being used to promote a "Sailor Jerry" spiced rum, along with a clothing line meant to compete with another brand trademarked by a rival tattooist.
So the exhibition is not stepping into calm seas but into vaulting, thrusting waves. On the day I visited, it was also clear from the decorative inscriptions on fellow visitors that the show hardly needs to proselytize for its subject. But the innocent among us still put their hands on a display table, selected a design from a series of buttons and, accompanied by audio of the whine of a needle and the recorded banter of a stage-set tattooist, watched as a tattoo, etched in light, took impermanent shape on virginal flesh.
The show doesn't shun such sensation, and some of the photographs and books of "flash" — recipes of images — offer plenty, but it is also careful and sober as it traces the history. It knows not to put too much weight on the Cook link or, indeed, on any single lineage, citing Darwin's comment: "Not one great country can be named, from the polar regions in the north to New Zealand in the south, in which the aborigines do not tattoo themselves."
But it shows that in the one great landless country of seafarers, the association went far deeper than it might seem. In the late 18th century, the show points out, tattoos would have served as a way of identifying bodies in cases of drowning; they were marks of association and identity that could not be eradicated by pirates, shipwrecks or enemy capture.
Early tattoos of American sailors are known mainly through description. But the exhibition shows how much can be pieced together about the nation's seamen by examining archival records. Each had a "Sailor Protection Certificate" that was carried as a form of identification that detailed the tattoos on its bearer's body; these descriptions often remain the sole remnants of individuality in these once-anonymous figures. Aaron Fullerton (born in 1778), for example, "has a ship on his right hand and on his left hand" along with his birth year etched in tattoos made by gunpowder.

"Skin & Bones: Tattoos in the Life of the American Sailor" continues through Jan. 3, 2010, at the Independence Seaport Museum, Penn's Landing, 211 South Columbus Boulevard and Walnut Street, Philadelphia; (215) 413-8655.