News
Hori Smoku at NOLA on The Times Picayune
10/09/08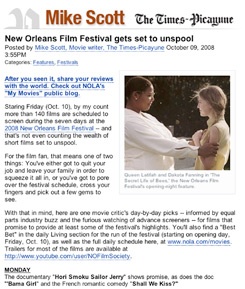 A short tid-bit for all you adoring fans.
---
Staring Friday (Oct. 10), by my count more than 140 films are scheduled to screen during the seven days at the 2008 New Orleans Film Festival -- and that's not even counting the wealth of short films set to unspool.
For the film fan, that means one of two things: You've either got to quit your job and leave your family in order to squeeze it all in, or you've got to pore over the festival schedule, cross your fingers and pick out a few gems to see.
With that in mind, here are one movie critic's day-by-day picks -- informed by equal parts industry buzz and the furious watching of advance screeners -- for films that promise to provide at least some of the festival's highlights. You'll also find a "Best Bet" in the daily Living section for the run of the festival (starting on opening day, Friday, Oct. 10), as well as the full daily schedule here, at www.nola.com/movies. Trailers for most of the films are available at http://www.youtube.com/user/NOFilmSociety.
MONDAY
The documentary "Hori Smoku Sailor Jerry" shows promise, as does the doc "'Bama Girl" and the French romantic comedy "Shall We Kiss?"