News
Honolulu Advertiser
03/03/08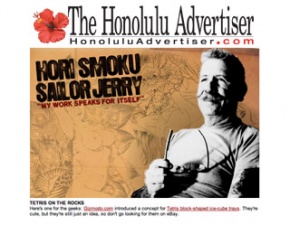 The Honolulu Advertiser
3.3.08
The news has hit Sailor Jerry's home state! The Honolulu Advertiser just got word of our documentary about the tattoo legend.
---
SAILOR JERRY HITS THE BIG SCREEN
A soon-to-be-released documentary on legendary tattoo artist Sailor Jerry will make the film fest rounds this year starting with its world premiere at the South By Southwest Film Festival in Austin, Texas in March.
The film, titled "Hori Smoku Sailor Jerry," tells the life story of Sailor Jerry whose tattoo shop was located on Hotel Street and who specialized in inking WWII sailors who were passing through Honolulu to and from their posts.