News
Hi Fructose Hypes Hori Smoku Sailor Jerry
05/03/10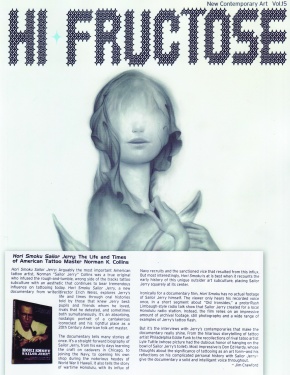 Hori Smoku Sailor Jerry: The Life and Times of American Tattoo Master Norman K. Collins
Hori Smoku Sailor Jerry: Arguably the most important American tattoo artist, Norman "Sailor Jerry" Collins was a true original who infused the rough-and-tumble, wrong side of the tracks tattoo subculture with an aesthetic that continues to bear tremendous influence on tattooing today. Hori Smoku Sailor Jerry, a new documentary from writer/director Erich Weiss, explores Jerry's life and times through oral histories told by those that knew Jerry best: pupils and friends whom he loved, rivals that he detested, and sometimes both simultaneously. It's an absorbing, nostalgic portrait of a cantankerous iconoclast and his rightful place as a 20th Century American folk art master.
The documentary tells many stories at once. It's a straightforward biography of Sailor Jerry, from his early days learning the craft on cadavers in Chicago, to joining the Navy, to opening his own shop during the notorious heyday of World War II Hawaii. It also tells the story of wartime Honolulu, with its influx of Navy recruits and the sanctioned vice that resulted from this influx. But most interestingly, Hori Smoku is at its best when it recounts the early history of this unique outsider art subculture, placing Sailor Jerry squarely at its center.
Ironically for a documentary film, Hori Smoku has no actual footage of Sailor Jerry himself. The viewer only hears his recorded voice once, in a short segment about "Old Ironsides," a proto-Rush Limbaugh-style radio talk show that Sailor Jerry created for a local Honolulu radio station. Instead, the film relies on an impressive amount of archival footage, still photography and a wide range of examples of Jerry's tattoo flash.
But it's the interviews with Jerry's contemporaries that make the documentary really shine. From the hilarious storytelling of tattoo artist Philadelphia Eddie Funk to the recollections of rival tattoo artist Lyle Tuttle (whose picture had the dubious honor of hanging on the bowl of Sailor Jerry's toilet). Most impressive is Don Ed Hardy, whose thoughts about the significance of tattooing as an art form – and his reflections on his complicated personal history with Sailor Jerry – give the documentary a solid and intelligent voice throughout.
-Jim Crawford