News
Gambit Weekly Writes about NOLA Film Festival and Hori Smoku
10/07/08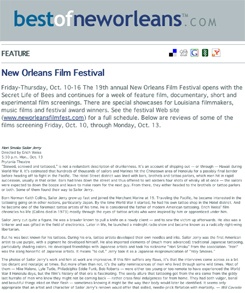 Check out the review of the Hori Smoku film on Gambit Weekly from the NOLA film festival.
---
New Orleans Film Festival
Friday-Thursday, Oct. 10-16 The 19th annual New Orleans Film Festival opens with the Secret Life of Bees and continues for a week of feature film, documentary, short and experimental film screenings. There are special showcases for Louisiana filmmakers, music films and festival award winners. See the festival Web site (www.neworleansfilmfest.com) for a full schedule. Below are reviews of some of the films screening Friday, Oct. 10, through Monday, Oct. 13.
Hori Smoku Sailor Jerry
Directed by Erich Weiss
5:30 p.m. Mon., Oct. 13
Prytania Theatre
"Stewed, screwed and tattooed," is not a redundant description of drunkenness. It's an account of shipping out — or through — Hawaii during World War II. It's estimated that hundreds of thousands of sailors and Marines hit the Chinatown area of Honolulu for a possibly final bender before heading off to fight in the Pacific. The Hotel Street district was lined with bars, brothels and tattoo parlors, which men hit in rapid succession, usually in that order. Bars had lines down the street and thus offered to sell soldiers four shots of whisky all at once — the sailors were expected to down the booze and leave to make room for the next guy. From there, they either headed to the brothels or tattoo parlors or both. Some of them found their way to Sailor Jerry.
Born Norman Keith Collins, Sailor Jerry grew up fast and joined the Merchant Marine at 19. Traveling the Pacific, he became interested in the tattooing going on in other nations, particularly Japan. By the time World War II started, he had his own tattoo shop in the Hotel district. And he become one of the foremost tattoo artists of his time. He is considered the father of modern American tattooing. Erich Weiss' film chronicles his life (Collins died in 1973) mostly through the eyes of tattoo artists who were inspired by him or apprenticed under him.
Sailor Jerry cut quite a figure. He was a brawler known to pull a knife on a rowdy client — and to sew the victim up afterwards. He also was a tinkerer and was gifted in the field of electronics. Later in life, he launched a midnight radio show and became known as a radically right-wing libertarian.
But he was best known for his tattoos. During his era, tattoo artists developed their own needles and inks. Sailor Jerry was the first American artist to use purple, with a pigment he developed himself. He also imported elements of (much more advanced) traditional Japanese tattooing, particularly shading colors. He developed friendships with Japanese artists and took his nickname "Hori Smoku" from the association. "Hori" was the slang honorific of Japanese artists. It means "to cut." Jerry took it as a Japanese mispronunciation of "Holy Smokes."
The photos of Sailor Jerry's work and him at work are impressive. If this film suffers any flaws, it's that the interviews come across as a bit too distant and nostalgic at times. But more often than not, it's the salty reminiscences of men who lived through some wild times. Most of them — Mike Malone, Lyle Tutle, Philadelphia Eddie Funk, Bob Roberts — were either too young or too remote to have experienced the World War II Honolulu days, but the film's history of that era is fascinating. The seedy allure that tattooing got from the era come from the giddy last hurrahs of men who knew they might not be coming back — rather crass final indulgences far from home. They had both vulgar, banal and beautiful things inked on their flesh — sometimes knowing it might be the way their body would later be identified. It seems only appropriate that an artist and character of Sailor Jerry's renown would offer that skilled, needle-prick flirtation with mortality. — Will Coviello