News
DVD Review on Big Shiny Robot.com
11/23/09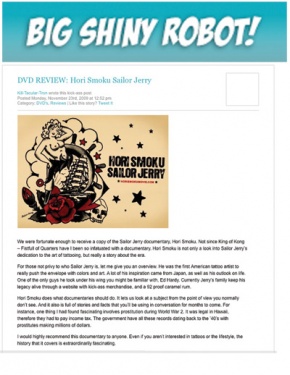 DVD REVIEW: Hori Smoku Sailor Jerry
We were fortunate enough to receive a copy of the Sailor Jerry documentary, Hori Smoku. Not since King of Kong – Fistfull of Quarters have I been so infatuated with a documentary. Hori Smoku is not only a look into Sailor Jerry's dedication to the art of tattooing, but really a story about the era.
For those not privy to who Sailor Jerry is, let me give you an overview. He was the first American tattoo artist to really push the envelope with colors and art. A lot of his inspiration came from Japan, as well as his outlook on life. One of the only guys he took under his wing you might be familiar with, Ed Hardy. Currently Jerry's family keep his legacy alive through a website with kick-ass merchandise, and a 92 proof caramel rum.
Hori Smoku does what documentaries should do. It lets us look at a subject from the point of view you normally don't see. And it also is full of stories and facts that you'll be using in conversation for months to come. For instance, one thing I had found fascinating involves prostitution during World War 2. It was legal in Hawaii, therefore they had to pay income tax. The government have all these records dating back to the '40's with prostitutes making millions of dollars.
I would highly recommend this documentary to anyone. Even if you aren't interested in tattoos or the lifestyle, the history that it covers is extraordinarily fascinating.