News
Curated.com Posts About Hori Smoku Film
10/13/09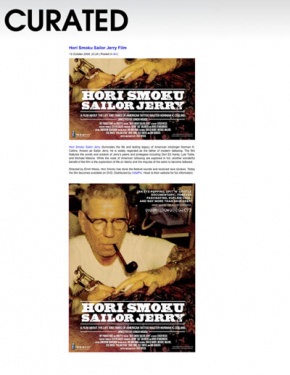 Hori Smoku Sailor Jerry Film
Hori Smoku Sailor Jerry illuminates the life and lasting legacy of American inkslinger Norman K. Collins. Known as Sailor Jerry, he is widely regarded as the father of modern tattooing. The film features the words and wisdom of Jerry's peers and protegees including Don Ed Hardy, Lyle Tuttle, and Michael Malone. While the roots of American tattooing are explored in full, another wonderful benefit of the film is the exploration of life on liberty and the impulse of the sailor to become tattooed.
Directed by Erich Weiss, Hori Smoku has done the festival rounds and received rave reviews. Today the film becomes available on DVD. Distributed by IndiePix. Head to their website for full information.
Full poster after the jump.