News
Creative Loafing .com Features Sailor Jerry
03/03/10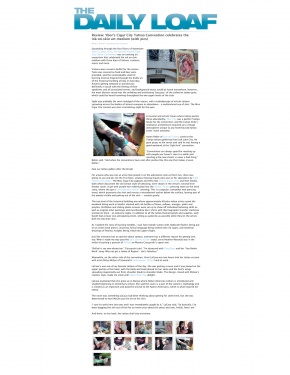 Review: Ybor's Cigar City Tattoo Convention celebrates the ink-on-skin art medium (with pics)
March 3, 2010 at 11:30 am by Amber Mcdonald
Expanding through the four floors of downtown Ybor's Cuban Club, The Second Annual Cigar City Tattoo Convention was an enticing art exposition that celebrated the ink-on-skin medium with three days of tattoos, contests, music and more.
Visitors were served a buffet for the senses. Taste was covered as food and beer were provided, and the unmistakable smell of burning incense lingered through the drafty air of the historical building all day on Saturday. Anyone getting tattooed or pierced was definitely in touch with the feeling of their epidermis and all associated nerves, and background music could be heard everywhere. However, the most distinct sound was the unfading and everlasting "buzzzzz" of the collective tattoo guns, which could be heard humming throughout the two upper levels of the club.
Sight was probably the most indulged of the senses, with a kaleidoscope of artistic tattoos sprawling across the bodies of almost everyone in attendance – a multicolored sea of skin. The Miss Cigar City contest was also a tantalizing sight for the eyes.
A musical and artistic haven where tattoo parlors thrive abundantly, Ybor City was a perfect Tampa locale for the convention, and the Cuban Club's neoclassic architecture conjured up a vintage atmosphere unique to any hotel-housed tattoo event I have attended.
Aaron Reber of Lost Art Tattoo came to the Tampa tattoo gathering from Salt Lake City. He gave props to the venue and said he was having a good weekend at the "tight knit" convention.
"Conventions are always good for meeting up with people you haven't seen in a while and meeting a few new clients is never a bad thing," Reber said. "And when the conventions have cool after parties like this one that makes it even better."
(See our tattoo gallery after the break)
For anyone who was not an artist that joined in on the adrenaline-rush-art-form fun, there was plenty to see and do. On the first floor, amateur boxing brawls were put on for spectators by Fight Factory of Tampa . The Miss Cigar City pageant and films like Stoney Knows How and Hori Smoku, both which document the old school style of tattooing, were shown in the venue's second level theater room. A girl with purple hair rollerskated into the Atomic Tattoo piercing room on the third story, where she got a "microdermal anchor" piercing. This is a popular, somewhat new piercing trend, which punctures the skin and inserts a microdermal anchor below the surface, leaving part of the jewelry visible and poking out of the skin — sounds gnarly.
The top level of the historical building was where approximately 60-plus tattoo artists spent the weekend doing work in booths stocked with ink bottles of blues, yellows, oranges, pinks and purples. Portfolios and sliding photo screens were set up to show off individual tattooing skills as well as original artist paintings and merchandise like t-shirts with thermographic transfer machines printed on them – an industry staple. In addition to all the tattoo-themed goods and supplies, each booth had at least one anticipating client, sitting as patiently as possible while they let the artists drill ink into their skin.
As I walked the rows of buzzing needles, I saw fairy-nymph scenes with elaborate flowers being put on as entire back pieces; inspiring, lyrical language being etched onto rib cages; and medieval drawings of fearless knights being inked into upper thighs.
Just like everyone has an opinion about tattoos, everyone has a different reason for getting one, too. When I made my way past the Epic Stories in Skin stand, artist Heather Maranda was in the midst of putting a portrait of RuPaul on Monica Cieszynski's upper arm.
"RuPaul is my new obsession," Cieszynski said. "I'm obsessed with Drag Race and her 'You Better Work' song. Why not get a tattoo of Rupaul – she's fabulous."
Meanwhile, on the other side of the convention, Vinni LaCava was two hours into her tattoo session with artist Ricky McGee of Savannah's Anonymous Tattoo hard at work.
LaCava's was one of my favorite tattoos of the day. She was getting a raven and it was placed on the upper portion of her back, with the body and head placed on her spine and the bird's wings spreading majestically out from shoulder blade to shoulder blade. The design, mixed with McGee's realistic style, made me smile with Edgar Allan Poe delight.
LaCava explained that she grew up in Alaska where Native American culture is introduced and studied beginning in elementary school. She said the raven is a part of the culture's mythology and is viewed as an important and powerful animal to the Native Americans, which is what inspired her tattoo.
The raven was something LaCava had been thinking about getting for some time, but she was determined to have McGee put the art on her skin.
"I saw his work here last year and I was immediately caught by it," LaCava said. "So basically, I've been bugging the shit out of him for an entire year about this piece and now, finally, here I am."
And there, on her back, her tattoo shall stay evermore.