News
Cool Hunting.com Features Hori Smoku Sailor Jerry
08/02/10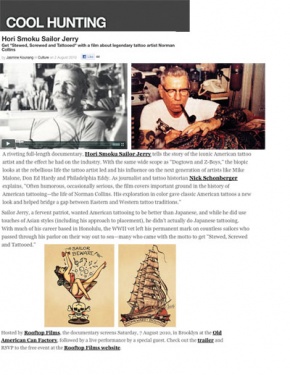 Hori Smoku Sailor Jerry
Get "Stewed, Screwed and Tattooed" with a film about legendary tattoo artist Norman Collins
A riveting full-length documentary, Hori Smoku Sailor Jerry tells the story of the iconic American tattoo artist and the effect he had on the industry. With the same wide scope as "Dogtown and Z-Boys," the biopic looks at the rebellious life the tattoo artist led and his influence on the next generation of artists like Mike Malone, Don Ed Hardy and Philadelphia Eddy.
As journalist and tattoo historian Nick Schonberger explains, "Often humorous, occasionally serious, the film covers important ground in the history of American tattooing—the life of Norman Collins. His exploration in color gave classic American tattoos a new look and helped bridge a gap between Eastern and Western tattoo traditions."
Sailor Jerry, a fervent patriot, wanted American tattooing to be better than Japanese, and while he did use touches of Asian styles (including his approach to placement), he didn't actually do Japanese tattooing. With much of his career based in Honolulu, the WWII vet left his permanent mark on countless sailors who passed through his parlor on their way out to sea—many who came with the motto to get "Stewed, Screwed and Tattooed."
Hosted by Rooftop Films, the documentary screens Saturday, 7 August 2010, in Brooklyn at the Old American Can Factory, followed by a live performance by a special guest. Check out the trailer and RSVP to the free event at the Rooftop Films website.