News
Austin Chronicle.com Features Hori Smoku Sailor Jerry
06/11/10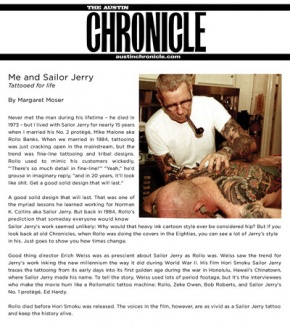 Me and Sailor Jerry
Tattooed for Life
By MARGARET MOSER
Never met the man during his lifetime – he died in 1973 – but I lived with Sailor Jerry for nearly 15 years when I married his No. 2 protégé, Mike Malone aka Rollo Banks. When we married in 1984, tattooing was just cracking open in the mainstream, but the trend was fine-line tattooing and tribal designs. Rollo used to mimic his customers wickedly, "'There's so much detail in fine-line!'" "Yeah," he'd grouse in imaginary reply, "and in 20 years, it'll look like shit. Get a good solid design that will last."
A good solid design that will last. That was one of the myriad lessons he learned working for Norman K. Collins aka Sailor Jerry. But back in 1984, Rollo's prediction that someday everyone would know Sailor Jerry's work seemed unlikely: Why would that heavy ink cartoon style ever be considered hip? But if you look back at old Chronicles, when Rollo was doing the covers in the Eighties, you can see a lot of Jerry's style in his. Just goes to show you how times change.
Good thing director Erich Weiss was as prescient about Sailor Jerry as Rollo was. Weiss saw the trend for Jerry's work inking the new millennium the way it did during World War II. His film Hori Smoku Sailor Jerry traces the tattooing from its early days into its first golden age during the war in Honolulu, Hawaii's Chinatown, where Sailor Jerry made his name. To tell the story, Weiss used lots of period footage, but it's the interviewees who make the movie hum like a Rollomatic tattoo machine: Rollo, Zeke Owen, Bob Roberts, and Sailor Jerry's No. 1 protégé, Ed Hardy.
Rollo died before Hori Smoku was released. The voices in the film, however, are as vivid as a Sailor Jerry tattoo and keep the history alive.